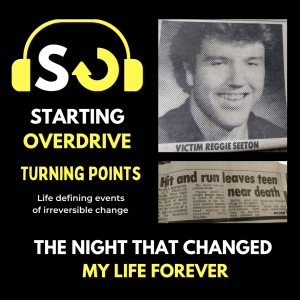 Thursday Jan 07, 2021
Ep: 07 - Turning Points - Reg Seeton - The Night That Changed My Life Forever
In this newly launched segment of Starting Overdrive called Turning Points, which explores life-defining events of irreversible change, creator and host, Reg Seeton, tells the story of the night that changed his life forever and the traumatic event that forced him to start over on a different life path. The year was 1985, a Saturday night in Halifax, Nova Scotia, Reg was walking home late at night with three friends when he was hit by a car from behind, left clinging to life on the road, and his life was forever changed in the blink of an eye.

In the first ever Turning Points segment of Starting Overdrive, Reg Seeton looks back on his life to detail the events leading up to his accident, the mistakes he intuitively felt, made, and ignored that night, how his family was falling apart at the exact same time, what it was like to be a teen in 1985, and both the difficult external and painful internal circumstances that contributed to a young teen being on the road so late at night.
As a local newspaper reported back in 1985, "Hit and Run Leaves Teen Near Death".

Comments (0)
To leave or reply to comments, please download free Podbean or