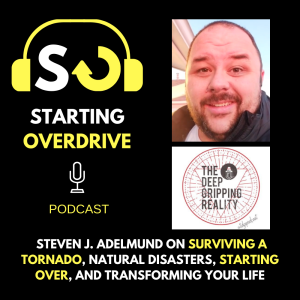 Monday Feb 01, 2021
Ep: 08 - Steven J. Adelmund on Surviving a Tornado, Natural Disasters, Starting Over, Adult ADD, and Transforming Your Life
In this episode of Starting Overdrive, we talk with Digital Marketing Specialist and host of The Deep Gripping Reality Podcast, Steven J. Adelmund, about surviving and starting over from an EF3 tornado that passed directly over his house in Iowa. Also in the episode, Steven talks about dealing with a second natural disaster during the pandemic of 2020 after rebuilding from the tornado.
No stranger to overcoming adversity and starting over, Steven also delves into his early life of being diagnosed with ADD, understanding his condition, dealing with change as a child, taking risks as an adult, and choosing to transform his life by getting the higher education he once thought was impossible in order to realize his dreams and live life from his true potential and passion.

Steven also relates the many strategies and leadership qualities he uses in his digital marketing career to dealing with sudden change when you're forced to start over on many unexpected levels.
Comments (0)
To leave or reply to comments, please download free Podbean or